Food Fight Blog
Even the sweetest of hearts get into arguments sometimes. Color and share these adorable (yet, currently feuding)  little candies. And, whether you're involved or single, blissful or fighting: Happy Valentine's from Severe Snacks!  
---
I spent a day in bed with a sinus infection, and colored a rude bunch of zombie donut holes from the Severe Snacks Coloring Book: If you have any pictures you've colored from Severe Snacks Coloring Book, send them to info@severesnacks.com and I'll post them here on the blog and on my Instagram page.
---
Check out this flip-through video of the Severe Snacks Coloring Book, made by Coloring Book Addict!
---
Happy Holidays from Severe Snacks! Enjoy this free coloring page, depicting seasonal snack-on-snack violence. It's a bonus scene that's not in the new Severe Snacks Coloring Book!
---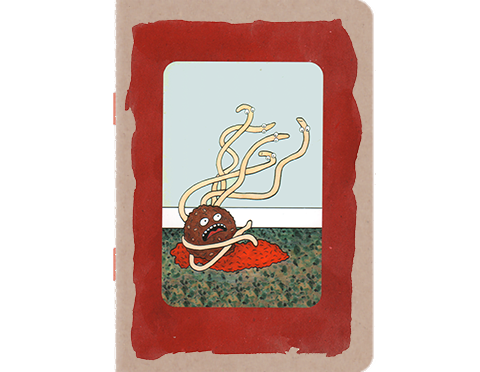 Need to stuff a couple stockings? I'm pleased to introduce the darling, hand-painted Poor Meatball! Notebook to the Severe Snacks Universe! Order by December 18th and your books will definitely make it there before Santa...